How to wash towels effectively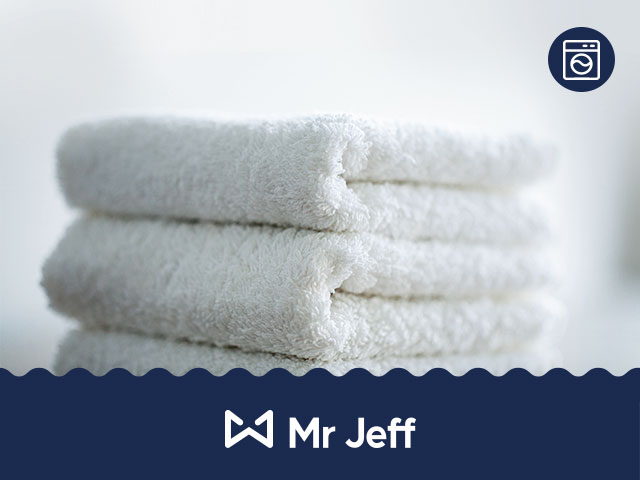 Everyone knows that clothes wear with washing, some more than others, but in the case of towels this ends up being incredibly annoying. When we buy a set of new towels, we find infinitely soft and spongy fabrics, but after a while they become rigid and rough. At Mr Jeff we know that this can be avoided and for that reason we are going to give you some tips about how to wash towels efficiently.
Don't know how to wash towels? At Mr Jeff, we do it for you!
If you have problems washing your towels efficiently, or you would simply like to enjoy that time with your family and friends doing what you like to do, we at Mr Jeff will do it for you!!
Via the Mr Jeff app, you can select the items you want for any of our services (ironing, washing, dry cleaning and delivery). Choose the collection date and one of our Jeff drivers will come to your home to collect your items. You will have your items returned washed and ironed just 48 hours later. All of this is just a click away on your smartphone.
How to wash new towels
When we buy a new set of towels, we must follow some guidelines when washing them for the first time. Let's see why:
Threads and lint from new

towels

loosen from its fabric, so we recommend that the

first wash is separate

from the rest of the laundry.
Another reason for doing this because in the first wash,

the colors may run and stain the rest of our clothes

. This problem will be fixed with successive washes as the color will set in properly.
Our final reason for

washing new towels

before using them is that the manufacturers apply a special softener to make them seem softer in stores. It isn't toxic or dangerous, but it makes the towel less absorbent, so it's advisable to remove it first.
The humidity problem
Bath towels, due to their use, are made with fabrics that stay moist for too long. The water and humidity in such thick fabric can harbour bacteria and mould, so we must make sure that towels dry as much as possible.
We recommend a towel rack for this. After each use, we should hang the towel on it, allowing it to stretch as much as possible without folds or wrinkles to facilitate air circulation and ensure fast drying.
In no case should we stack towels on one another or stored in cabinets or drawers if they are wet. This can promote the growth of bacteria which can cause a permanent bad smell.
How to wash towels in the washing machine
As a general rule, towels should be washed separately from other garments as they lose lint, threads and absorb colors from other clothes easily.
This rule is obligatory when we have a particularly stained towel. Avoid exposing the other garments to possible germs. Avoid adding enhancers to the detergent as it may damage other garments in the wash.
When washing our towels, it's recommended to only use half of the normal amount of detergent as it may make the towels lose consistency and less spongy.
Look at the recommended quantity to use and divide that by two. The detergent cap can serve as a measure and don't forget to take the load into consideration.
Towels should be washed with hot water to remove all the dirt, germs and bacteria. Although, if we have towels made of a delicate fabric, embroidery, decorative elements or delicate colors, we can lower the temperature or even wash them in cold water to keep them for longer.
As shown above, softeners reduce towels' absorption ability. In exchange, they provide soft, spongy towels. The solution? Use softener every two or three washes to prolong the lifespan of your towels without sacrificing softness.
By the end of the week, towels end up full of makeup, dead skin and dirt from all family members. Because of this, it's important to disinfect them from time to time. The most effective thing to do is to put bleach in the washes. This is very effective but if you don't want to damage the towels excessively, add vinegar instead, as it is a very powerful, natural disinfectant.
White towels need more care as dirt is more noticable and stains are more difficult to remove. We recommend that you read the article we published a few weeks ago at Mr Jeff about special care required by white clothes to maintain their color for as long as possible.
How often should I wash towels?
At Mr Jeff we recommend washing towels at least once a week. If you live in a humid climate, you should wash them every few days. Gym towels and those used in a public place should be washed after use.
And drying?
Drying is a fundamental part of towels. It's something that stays wet for long periods of time which can result in strange smells and even mildew. That is why we at Mr Jeff recommend using a dryer.
Both towels and other garments come out of the washing machine clumped together, so it's advisable to shake them out before hanging them up so that the fibers to expand and the garment retains its flexibility. The best way to fight against humidity is to hang them up somewhere outside that gets direct sunlight. This helps to enhance the color of white garments.
You also can be interested in: